Smart investing with high-quality genetics
Sustainability in its many forms is now at the forefront of the animal protein industry. Turkey meat production is no exception. For many people, the term sustainability is deeply connected to environmental sustainability and protecting the earth's remaining resources. But, creating a sustainable industry means more than just environmental factors. Our aim is to ensure that the turkey industry can continue to be profitable and self-sustaining for many years to come. This is known as economic sustainability.
Farmers simply want to earn the full value of their efforts and run a profitable operation. How can we achieve economic sustainability? Reliable, high performing birds are clearly an important part of this equation. From a grower perspective, balanced genetics, suited for the right environment give you the best chance of gaining the full value of your investment. From an industry perspective, high-quality genetics deliver reliable supply and better overall efficiency.
How does our breeding program help producers get the best return on investment? We make sure to offer genetic solutions suitable to a variety of environments, and we stay true to our commitment to balanced genetic progress.
The right genetics for the right environment
To make sure our birds will thrive in a variety of commercial environments, it is important to understand the genotype by environment effect (GxE). The same genetics nurtured in two different environments can impact their performance. For this reason, we study and make selections of pedigree birds in two different geographic locations: North America and Europe. With pedigree programs running on two different continents, we can take environmental impact into account when making selections to deliver the best products, now and in the future.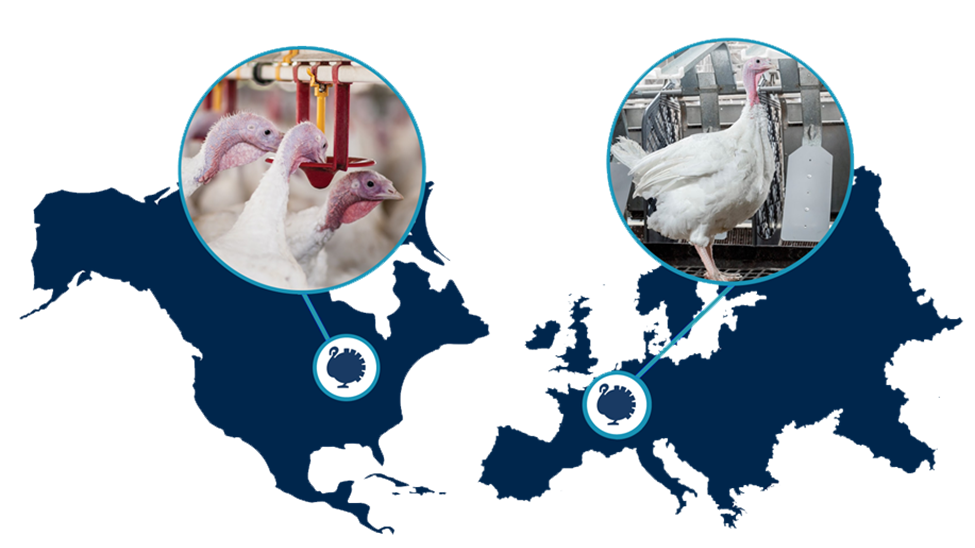 By having two different breeding program locations, we can replicate our customers' systems as much as possible, including the climate, diets, and management techniques.
Outside of conducting research in our pedigree facilities and internal farms, we regularly conduct trials in collaboration with customers and universities around the world to provide year over year improvements.
Take a look inside our European breeding facility to learn more about how we select high performing genetics
Balanced breeding program
As tempting as it may be to put sole focus on one trait that will deliver the highest profit, a balanced breeding strategy is the best way to achieve economic sustainability. The animal protein value chain is complex, and there are several important traits that need to be considered when determining overall profitability. Certain traits are often negatively correlated, and so overemphasis on one trait leads to decreased efficiency in other areas. For example, an increase in body weight can have a negative impact on egg production or livability.
Breeding decisions are influenced by all members of the value chain and the traits most highly valued by the market today have changed from 10 years ago and will continue to shift over time. A balanced approach means that we can achieve genetic progress in a variety of traits that are important in the current market, while accounting for the anticipated needs of tomorrow. By maximizing value for several key factors, producers can more easily adapt to the demands of a changing market and ensure that their operations remain profitable, now and in the future.