Birds placed at European pedigree complex
Progress continues to move along in the set up of our new European pedigree complex. We are pleased to announce that the first pedigree turkeys have been placed and are now being raised to populate the next generation of turkeys.
After six months of construction, the facility is operational with poults placed onsite for rearing and hens now in the laying phase. This exciting milestone means in a matter of months, the pedigree program in Europe will be established, with birds being analyzed and selected to produce parent and commercial stock birds for our customers.
This new complex is the result of our investment into our genetic engine that fuels product development. As announced earlier this year, this facility has been developed to deliver tailored products for the systems and environments of our customers all over the world. This complex is the second pedigree facility, in addition to our existing facilities in Canada. This investment will allow us to study breeder candidates raised in a similar environment as their future offspring.
The complex was built with high biosecurity standards to avoid risk of contamination and safeguard the turkeys of the future. Each barn functions as a stand-alone facility with shower-in procedures in place to prevent cross-contamination. In addition to this, individual feed stations are now being installed to track and analyze the feed conversion of each animal. Testing of the feed stations will start at the beginning of January 2020.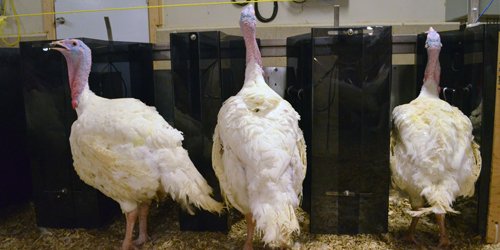 Example of feed station
This new complex will allow our team to select the best genetics for our products, leading to enhanced performance and success for our customers all over the world.