Get to know our team: Lidia Picanco
In her position as Human Resources Manager, Lidia approaches her work as a labor of love.
Incredibly hard working, she is often one of the first to arrive at the office and one of the last to leave. After 28 years with the company, she continues to tackle the challenges of the job with a high level of energy and enthusiasm. Get to know Lidia as she shares her thoughts on the challenges of the labor market and how Hendrix Genetics has made strides in understanding and attracting new candidates into the industry.
Can you tell me a little about how you got involved in the industry?
My entry into the industry was a bit of a fluke. I came from the hospitality industry, where I had been working in community relations for a group of restaurants. I was hired in a marketing role to assist with the marketing activities for Hybrid Turkeys and helping the sales team, which was a very small team at the time. I was hired in March, and I was asked to organize our very first global customer meeting in 2 months – a very busy start! Luckily, the event went well, and it was really wonderful to meet and interact with customers from all over the world.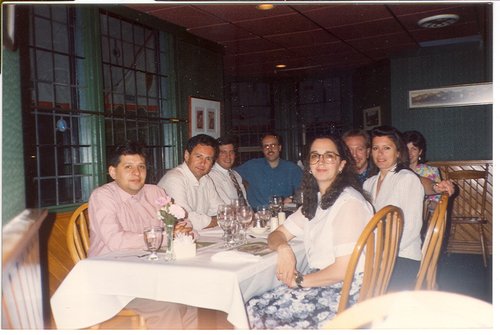 Lidia dining with a group of customers from Brazil
So how did you make the transition from marketing to HR?
I had never really even thought of HR as a possible career, but I've always connected well with people. Dave Libertini, now the Vice President of Americas, approached me one day with an opportunity to transition to Human Resources. He wanted someone in this position who really understood our company and our people and felt that I did this and could learn the HR side.
I decided this would be a great opportunity to see if the role would fit within my own capabilities. I then took some HR courses to gain the technical skills needed. There is no doubt that my love of people and also my enjoyment of the team is what made the transition such a great opportunity and one that has worked out quite well for me. I love people, that's what it really boils down to.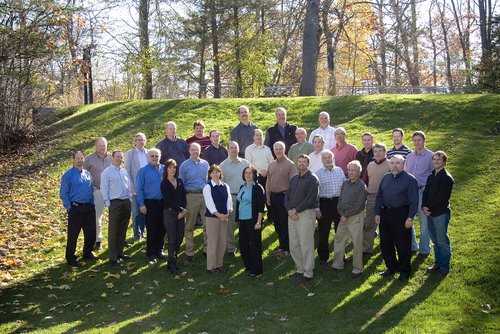 Hybrid sales and technical team circa 2009
Do you enjoy working with the different types of roles in our company?
Oh absolutely! I often say that the beauty of this job is that you get to build a connection with some of the most brilliant minds in the world. Very scientific, very factual, geniuses, I would say. I also love my connection to the hard working, salt of the earth people that make our company what it is today. We need a blend of all of those roles to make things work.
What are some of the ways you've seen the labour market shift and change throughout your career as HR manager?
I think the biggest change is that there is an absolute war for talent out there. You cannot pass any business today without seeing some advertisement showing they are also hurting for labor. This is happening at all levels, but it is absolutely more pronounced for the farm and hatchery labor side. We are facing the lowest unemployment rates in history. We are competing for every available laborer out there. Governments are also implementing immigration policies that make it much more difficult to hire people from outside the country, and yet we need them. The future of our industry, not unlike others, is that we will always rely on some foreign labor.
Finally, the conversation between employers and candidates has really changed. We used to approach the process by presenting the job, our need, and what's required. Today, we approach candidates by asking them about their aspirations, their goals and the work experience that is important to them. These conversations allow potential candidates to see if the company is aligned with them. This has been one of the most fundamental shifts in my time.
Throughout these changes, how has Hendrix Genetics adapted its practices to recruit and retain new talent?
There are a few ways we have adapted over the years. Automation is one of the technological necessities we have invested in and an area where we, as an industry, need to do more. One of the best examples I've seen is our new hatchery in Beresford. It's incredible to me how we have taken some of the most difficult parts of the work and replaced it with automation. We still need people, but automation can make our lives so much easier, both for the workers and for those who need to fill these positions. The restrictions that we put in place, in terms of biosecurity, make for some difficult working conditions. We do this for all the right reasons, but it doesn't change the reality of the work.
We've also made a conscious effort to understand the expectations of new employees coming into the company. Employees are here for a work experience and, often, a shorter time period than many of us who have been here for 20 plus years. Of course, we want people to stay as long as possible, but we also understand that some people want to have exposure for a certain period of time, build experience, and then move to the next opportunity.
We also need to have a balance of all generations. It's important to have enough people in the pipeline developing their skills to take on the roles of those with tenure and decades of experience. To attract a multi-generational team, we need to be flexible in the type of arrangements we offer. People want extreme flexibility in their employment experience, and in a tight talent market, they can absolutely dictate that. We continue to work hard at adapting to this new reality.
What do you find to be the most rewarding about working in the industry?
I think for me, what I have really enjoyed and what I can immediately connect with, is that this industry allows us to impact the world. How? The work that we do at its very core is helping to feed the world. We are stewards for the animals in our care, and I believe that animal protein will help to feed the world. That to me is the most important, most impactful thing I do.
Outside of work, what could we find you doing, listening to, reading, watching?
Well, I love to read. I always have 3-4 books on the go on my night table at home. My e-reader is one of my travel necessities. I am also a very family oriented person, and I'm lucky to have my family very close by. I spend a lot of time with my husband, two girls and my grandchildren. For me, its all about family. Now, entering a warm summer, I'm really looking forward being outside and entertaining family and friends.