Poult Reporting Tool – A proactive approach to quality control
A tool designed to track metrics that impact poult quality in 'real-time' and use that information to make improvements.
We are always looking for new and innovative ways to provide the best quality in our services and products to the industry. In late 2015, one of our goals was to find a proactive approach for enhancing quality control for our customers in the US. From this, the Poult Reporting Tool was born. We first launched the tool for US commercial customers, and now parent stock customers in North America are able to use the tool as well. In the future, we plan to expand this tool to be accessible in other regions of the world.
The Poult Reporting Tool is the first of its kind and completely customized for Hybrid customer needs. Each farm has their own login and password and can enter their data directly through their computer, tablet, or smartphone. The tool was also designed with confidentiality in mind so that submitted results are always kept secure.
What does the tool measure within each delivery?
Mortality rates 

Hatchery of origin

Hatch day/date

Sex, services, breeder source flocks

Delivery mileage, delivery drivers, trucks used in delivery

Poult and truck temperature

Actual invoices and delivery documents (scanned-in)

Break down of history by farm, complex or company

Farmer comments, internal comments

36 hour hatch window

Poult yield

Vent temperatures at hatch

After the results have been submitted, the tool provides instant comparative feedback to other submissions of same sex, comparing the submitted flock to most recent 100 entries. It then gives the user a ranking and range of performance. Upon request from the customer, we (Hybrid) can generate a customizable report to give benchmark information.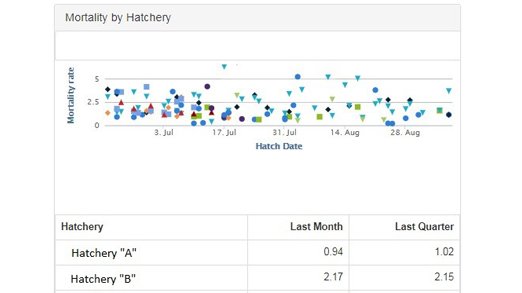 The above graph demonstrates an example of a custom report. The results show improved 7-day mortality for 3 out of 5 hatcheries that farms reported mortality from. 
Over a year and a half later, the tool has tracked deliveries of 7,328 Hybrid placements in North America with over 4,868 of those reporting back results. New features are added to the tool each month to ensure we are capturing relevant and accurate data. The biggest asset of the tool is the ability to access and track data so that we can help our customers target areas of opportunity for better performance and to quickly make meaningful improvements. 
Want to learn more about how to use the Poult Reporting Tool? 
Email poults.hybrid@hendrix-genetics.com for any and all questions on how to log your results and get the most out of this unique tool.